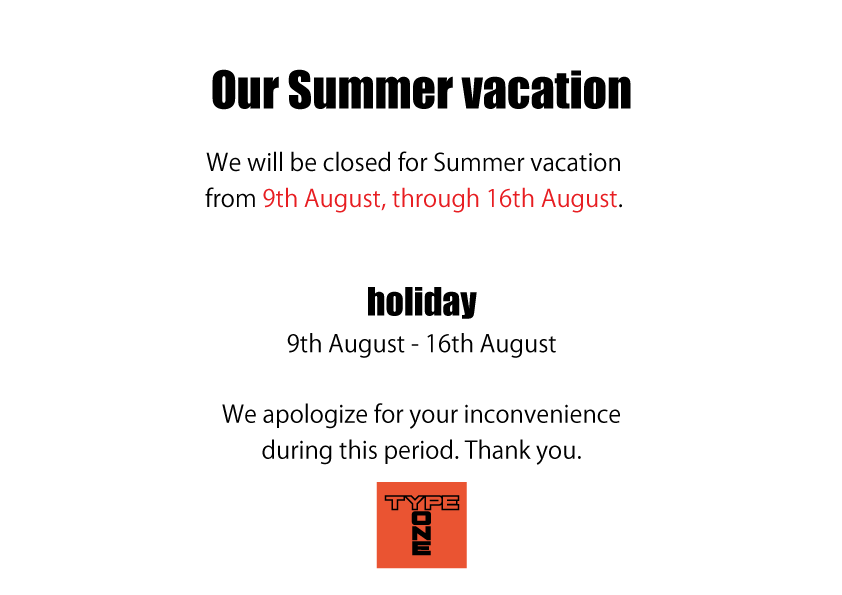 誠に勝手ながらタイプワン、スプーン共に8月9日(水)より夏季休業を頂きます。
皆様には大変ご不便をお掛け致しますが、ご理解お願い申し上げます。
<休業期間>令和5年8月9日(水)~令和5年8月16日(水)
.
休業中のお問い合わせメールには、8月17日(木)より順次返信をさせて頂きます。
.
.
ATTENTION


.
Recently, We are troubled by the bad manners of tourists who visit Spoon Headquarters and TYPEONE.
Unfortunately, there have also been a few cases of equipment theft.
Therefore, we would like to request the following
.
*Please do not touch facilities and exhibits in Spoon Headquarters & TYPEONE, without permission.
*Please do not touch the vehicles in TYPEONE.
*If you want to ride a demo car or race car, please ask a staff member.
*Outdoor smoking is prohibited in Suginami Ward, where Spoon Headquarter and TYPEONE are located, except in permitted areas. *Please refrain from smoking indoors or outdoors at SPOON and TYPEONE.
*If you do not follow the instructions of the staff, you may be refused admission.
.
We hope that all the SPOON fans and Honda fans who came to see us will leave with good memories.
Thank you for your understanding and cooperation.